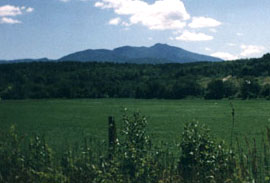 Vermont farms thrive on the fertile soil washed down
over the centuries from the Green Mountain range

This site presents a collection of photos* focusing on natural New England. They have been posted in response to requests from former New Englanders.
The purpose of this site, I guess, is to make these people homesick.
The world is full of former New Englanders, it seems. People are always leaving for California or the South for the weather, or maybe New York or Texas for their careers--anywhere but New England.
Of course, it's the people who left the region who gave it some of its natural charm. The farms they abandoned turned back to forest. The millponds they dug turned back to racing streams. Most of their houses have rotted away, but a few buildings, hollow and ghost-infested, still cling to existence in the woods.
So with that in mind, we'd like to thank the people who moved away from our six-state region. You helped make it the beautiful place it is today.